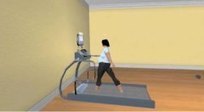 Most studies involving video games and avatars have been connected with weight gain, but seeing our virtual selves could also melt pounds away — if the avatar adopts the right healthy habits.
Barbara Truman's insight:
More evidence that everyone who wants to improve their "self" should create an avatar that can be modified. Reflexivity and habit formation are reciprocated. This article may involve unlearning, but not necessarily unknowing as in engagement with dialogue.
See on healthland.time.com