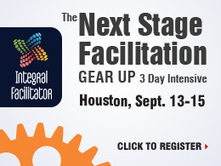 Otto Scharmer: Theory U — Leading from the Future as It Emerges
Barbara Truman's insight:
*Delighted* to see this interview of MIT's Dr. Otto Scharmer from  Dr. Russ Volckmann of the Integral Leadership Insititute. The notion of leading self using new collaborative platforms resonates with me to promote positive transformation in communities, including virtual-physical hybrid communities. Presencing and Theory U offer a valuable framework on many levels.
See on integralleadershipreview.com